Discurso de aceptación de Jamie en GQ Men of the Year Awards.
Thirty-two-year-old, Belfast-born Jamie Dornan has been busy. Over the last year he's played Abe Goffe, the young rogue determined to make England a republic in Channel 4's 17th century drama New Worlds, earned a Bafta nomination for his role as psycho killer Paul Spector in the BBC hit series The Fall, and filmed Fifty Shades of Grey, assuming the role of bondage-crazed business magnate Christian Grey.
Next, he's set to secure his new-found star status by appearing opposite Bradley Cooper in Adam Jones in a film about chefs in London, and takes on his second lead role as Dr Allan Pascal in thriller The 9th Life Of Louis Drax.
It's little surprise that he had no competition for winning GQ's Vertu Breakthrough Artist. He told us, "Eddie Redmayne won this award last year - six years ago we were whoring our way around LA together. We had no scripts, no women in our lives and very little dignity, but we must have done something right. At least in the eyes of GQ."
Treinta y dos años de edad, nacido en Belfast, Jamie Dornan ha estado ocupado. Durante el último año ha interpretado a Abe Goffe, el joven pícaro decidido a hacer de Inglaterra una república en el Canal 4 de teatro del siglo 17 el "New World", obtuvo una nominación al BAFTA por su papel de asesino psicópata Paul Spector en la BBC exitosa serie The Fall, y filmó Fifty Shades of Grey, asumiendo el papel del esclavitud-enloquecido magnate Christian Grey.
A continuación, él ha establecido para garantizar su estatus de estrella recién descubierta por el lado de la mención Bradley Cooper en Adam Jones en una película sobre chefs en Londres, y se enfrenta a a su segundo papel principal como el Dr. Allan Pascal en el thriller La novena vida de Louis Drax.
Es poco sorprendente que no tenía competencia para ganar el GQ Vertu Artista Revelación. Nos dijo, "Eddie Redmayne ganó este premio el año pasado -.. Hace seis años estábamos en nuestro camino alrededor de Los Ángeles juntos, tuvimos ningún guión, no había mujeres en nuestras vidas y muy poca dignidad, pero debemos haber hecho algo bien, al menos a los ojos de GQ ".
Screncaps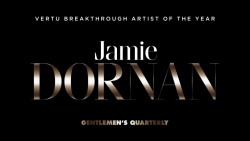 Source
| Thanks to
@Shades_Blog